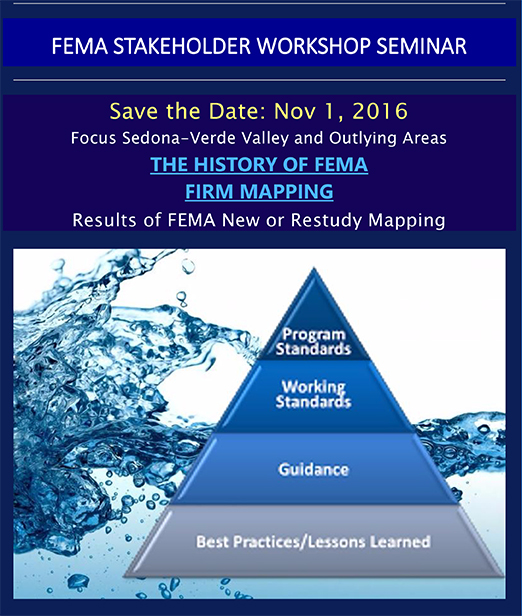 FEMA Stakeholder Workshop
Nov 1, 2016
Focus Sedona-Verde Valley and Outlying Areas

THE HISTORY OF FEMA | FIRM MAPPING
Results of FEMA New or Restudy Mapping
Learn Answers to these Questions and much more…
The county's responsibilities and interaction with the National Flood Insurance
Program.
Recent changes in Congress that affect properties in the flood plains.
Ongoing studies and the schedule for them to become effective.
Should I purchase Flood Insurance if I am not in a flood plain?
On an individual property, would it be possible to get a letter that will satisfy a
lender to avoid the cost of flood insurance when my structures are out of the flood
plain but a portion of my property is impacted by the flood plain?
How often can new FEMA mapping be done? Why would it occur again?
Why is it important that you know how FEMA Regulations may affect your
property?
Where do I go to find out where a property stands with respect to FEMA Firm
Mapping?
How much land in the Sedona Verde Valley is effected by FEMA FIRM Mapping.
How do I know what updated mapping has been completed and what is still
ongoing?
How accurate is the Yavapai County GIS FEMA Flood layers?
Buildings that are in the PreFIRM Mapping.